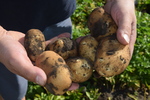 Unfair Trading Practices in the Business - to-Business Food Supply Chain
Unfair trade practices imposed by the stronger party to a contract can have a profound impact on the functioning of the market, increasing costs and reducing revenues of the parties that experience them.

Unfair trade practices can appear on any side of the B2B transaction, in any sector of the market. Recently unfair trading practices have been of particular interest to the EU in relation to food supply chains.

Any consideration concerning possible future action in the area of unfair trading practices must consider a number of issues such as: whether or not legislative action is needed, and if so, what scope and form should it take. However, the key element of any action is to ensure its subsequent effective enforcement.